Skirts are a popular choice for a feminine look and there is a large variety of the styles of skirts that are fashionable these days. Whether you are at work or going out for a dinner with friends, skirts seem to be a safe option. One of the best things about 2014 is that, while there are certain things that are out of fashion, yet there is so much more for you to explore from. Having your own signature style is very important, and that only comes from being comfortable in your skin. Here is a handy guide to help you choose which shoes to wear with the variety of skirt lengths that are trending this year: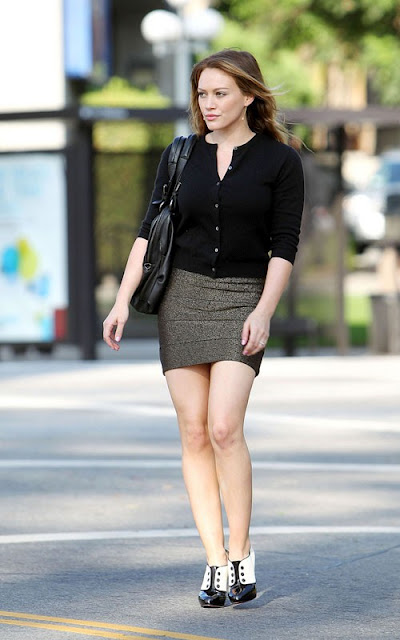 Mini Skirt
While
mini skirts are more fashionable
if you are going out clubbing or a dinner date, it is perfectly fine to wear it to work as well. You can pair it up with a loose, full sleeve blouse on top to make it look more conservative. There is a variety of shoes that go well with mini skirts. First of all, you can never go wrong with boots and skirts, especially if they are long boots. They cover up your legs and balance out the outfit, while making you look super trendy. Think Taylor Swift or Rihanna and you can get more ideas on what shoes to wear with a shorter skirt. Oh, and of course high heel shoes for women look awesome under a mini skirt because they give your legs shape and also give you height that you need to walk comfortably in a mini skirt. High heels with this kind of skirt will make you look much taller because your legs will not be covered and the heels will be giving you more height!
Miranda Kerr wearing high heels with mini skirt
Midi skirts
The trick with Mid-thigh Skirts is to maintain a balance between your shoes and the top you are wearing with it. The best idea for your outfit of the day with midi skirts is to wear heels as it will give you height and make your legs look longer. That is what every girl wants and you can definitely achieve this look by pairing a good looking
high heel
with this type of skirt. The pencil skirt as many call it is the quintessential skirt for the weekend BBQ or dinner and kitten heels go well with it too. Whether you wear strappy shoes, gladiator style or 'barely there' style, everything will go well asl ong as it has a heel attached to it.
Maxi Skirts A favorite kind of skirt for a trip to the beach or for a walk in the park, maxi skirts are comfortable and very chic. With a maxi skirt, the shoe you choose is more about how long the skirt is rather than what kind of shoe to wear. You obviously wont wear heels for the fear of tripping and besides it does not look very flattering. You should opt for hi-tops or wedges like these
http://garageshoes.co.uk/womens/hi-tops.html
if you want some height, otherwise flats is the way to go with these flow-y types of skirts. Flat sandals look gorgeous and are also super comfy for the summers. If you're wearing a maxi in winters it would e wiser to opt for closed shoes that can keep you warm as well!